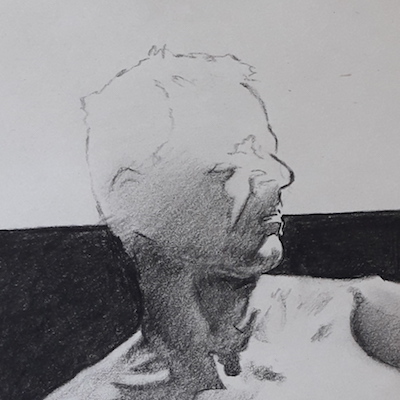 The first time I read Matthew 5.32, I exploded with rage and threw the Bible across the room.
When I calmed down, I realised that Jesus' words in the Sermon on the Mount—"But I tell you not to divorce your wife unless she has committed some terrible sexual sin"—related to my maternal grandmother, who had an affair in 1932.
My grandfather went to court for custody of my mother. He won, and my grandmother was expelled from the family. But the shame that her own mother had abandoned her for sex emotionally crippled my mother. She was a shrunken and diminished figure for the rest of her life.
Generational sin
I inherited that shame through what the church calls 'generational sin'—an inter-generational form of PTSD, known scientifically as epigenetic inheritance. It was the first—and perhaps the most significant—of the jigsaw pieces that led to the creation of this site. Another was my exposure to porn at age 10. I repressed its full impact for nearly half a century.
Mine was a rootless childhood. By the time I was 13 I'd lost three whole sets of friends, spoke three languages, lived in four countries and been exposed to five religions.
My introduction to Christianity came at a Catholic primary school in the Italian-speaking part of Switzerland. Nuns taught mathematics by getting us to stand at the front with a hand extended. We were bombarded with rapid-fire times-table questions. If you got it wrong or answered too slowly, the ruler smacked down. I was eight years old. I didn't even speak the language. I still do mental arithmetic in Italian.
The cumulative effect of this toxic brew of abandonment, rootlessness, sexual shame and spiritual confusion was a profound disconnection from the world. The older I got, the more painful it became. I had to find the way out. I had no idea that would lead me to Christianity—and ROCI21.
Heavy industry
First, it led me to heavy industry. I became a software engineer at a large manufacturing plant in New Zealand. I learned to analyse in the very specific methodology of process manufacturing. This proved to be a brilliant tool for deconstructing human emotional processes.
I ended up living out of a suitcase as an IT consultant in America. In lonely motel rooms I became addicted to pornography. While every porn addiction therapy I studied urged avoiding porn, an inner voice said, "Look closer."
I didn't know it, but God was teaching me to stare into the darkness without blinking.
By analysing my behaviour I discovered a world of damaged psychosexual programming buried beneath a patina of shame. It wasn't pretty but I broke the addiction cycle.
I traced this damage back to the dawn of patriarchy. Over two decades I worked down through the layers, the emotional equivalent of an archaeological dig, seeing patriarchy not as a political or social structure, but primarily an emotional one.
Brought to Christ
Only then was I brought to Christ—and to Matthew 5.32. My journey came full circle, and I was healed.
There were clues along the way, though I missed them all. An inexplicable love of the film of Jesus Christ Superstar and the inescapable sense that Mary Magdalene was like a patron saint matured into a love of Holy Communion and modern worship songs.
I felt lost for 50 years. I struggled to find my identity, both personal and spiritual. Only with hindsight can I see that God was always there, leading me through my brokenness, my damaged and damaging behaviour.
There are words and actions I wish I could undo, apologies I yearn to make. But God is relentless and leads us ever on. To all those who were part of my journey, whatever role you played, I thank you with all my heart.
Michael Hallett